Boonton Restorative Dentistry
After your checkup, the doctor will take some time to talk with you about your state of oral health. Should you need restorative dental work to correct structural imperfections or eliminate infection, be sure to contact us to schedule the dental work as quickly as possible. Sure, we'd love to see you again soon – but the real reason you should follow through quickly is because dental problems will only worsen over time. Decay and infection spread, cracks and chips grow, and missing teeth put stress on the whole oral system. We want you to enjoy a strong, healthy smile for life!
The doctors, assistants, and hygienists on our team will explain their findings and present options for treatment. Ultimately, you are the only person who can make decisions about your oral health, so we encourage you to ask questions, gather information, and learn the facts. With short videos, models, and your own digital X-rays and photos, we can educate you about your options. Then, together, we'll devise a practical plan of action to restore optimal oral health to your mouth – and improve your potential for living a healthy, high-quality life.
Traditional Crowns & Bridges
Dental crowns are restorations that fit over the top of damaged teeth to restore form and function, and they are available in a variety of materials including gold, porcelain bonded to metal, and ceramic. Traditional crowns are placed over two visits. During the first, we prepare the tooth, capture bite impressions, and place a temporary crown. The impressions and the doctor's design are sent to a lab where a custom crown is milled. Once we receive this final product from the lab, patients return to exchange their temporary for a custom crown. Dental crowns are used to repair decayed or damaged teeth, cosmetically flawed teeth, root canal treated teeth, or to replace missing teeth as part of dental implant supported tooth replacement or a fixed bridge.
Same Day Crowns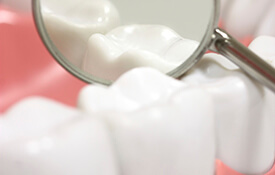 Tooth loss and significant dental wear and damage have traditionally been repaired with complex restorations that took two or more visits to the dentist to complete. Dental crowns, inlays, onlays, and fixed bridges offer renewed health and function for patients with damaged or lost teeth, but they required patients to schedule numerous appointments and place and remove temporary restorations, which may lead to additional dental damage. Our team uses the E4D same day dental restoration system to complete the entire restoration process in a single visit. We start by preparing damaged teeth and capturing impressions of the tooth to be repaired. These digital impressions are immediately available on our chairside computer monitors where our skilled dentist will design the custom restoration. Once the crown, inlay, onlay, or fixed bridge is designed, the plan is sent to our in-office E4D milling unit. This machine allows us to use the digital impressions and our design to craft a block of ceramic into a custom restoration over the course of fifteen minutes to about an hour. Once these restorations are completed, we are able to place the final restoration on the same day with no need to place and remove a temporary. Patients are able to achieve the same high quality, custom, cosmetically superior results typically only possible with treatment over the course of several weeks or months in just one appointment with our dental team.
Tooth-Colored Fillings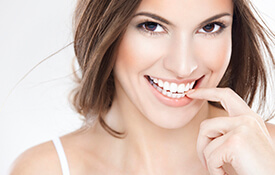 If patients have tooth decay or minor chips and cracks that require fillings to repair, they no longer need to expect metal-colored amalgam restorations. We use a much more cosmetic alternative – composite resin filling materials. These fillings combine silicon dioxide (glass) and tooth-colored plastics to form a durable, natural looking restoration option. Compared with traditional amalgam fillings, composite resin fillings offer patients a number advantages including:
These fillings offer a cosmetically superior result that can be carefully shaded to match natural dental structures
Composites are also more conservative because less dental structure needs to be removed in order to accommodate the filling that is applied directly to the surface of teeth
The composite material is malleable and shaped into place directly onto the treated tooth improving and preserving the natural structure and stability
Many patients and dentists believe the less durable composite resin will not offer results that are as long lasting as the stronger amalgam materials. However, research has shown that composites last seven to ten years on average, which is as long or longer than the typical amalgam filling.
Dentures & Partials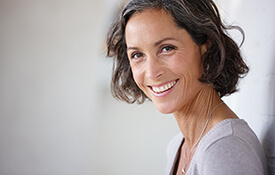 Partial and full dentures are used to restore patients' smiles following extensive tooth loss. Partials fill gaps in patients' smiles like a puzzle piece and are held in place with metallic clips. The prosthetic is crafted using a gum-colored base shaped to fit between healthy teeth and support replacement teeth. Full dentures are crafted in a similar manner. However, rather than replace just a few teeth along an arch, they replace an entire row of teeth. Instead of clasping to remaining healthy teeth, the base of a denture is shaped to fit snugly against the gums creating suction that holds the prosthetic in place.
Root Canal Therapy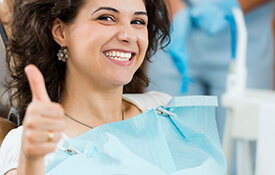 Root canals have a bad reputation for being painful, but actually, they are safe and comfortable. In most cases, patients actually experience significant pain relief as a result of root canal therapy. This procedure is necessary when decay or damage accesses the innermost layer of the tooth. This dental layer includes soft tissue known as pulp as well as the entire nerve system of the tooth which runs through the pulp and root canals to the gum tissue. Root canals remove the entire damaged pulp and nerve tissue, replace it with comparable synthetic tissue, and reseal the treated tooth. In many cases, we recommend placing a dental crown over the root canal treated tooth in order to protect and fortify the dental structure.