Cosmetic Dentistry in Boonton
Contemporary cosmetic dentistry offers many affordable, conservative treatments to improve the color, shape, and alignment of teeth for a beautiful smile. After securing solid oral health for your mouth – teeth, gums, and jaws – we can discuss enhancing the appearance of your smile with individual cosmetic procedures or a smile makeover.
A cosmetic consultation provides a time when you and your dentist can sit down and chat about your ideal smile. The doctor will help you pinpoint the aspects of your smile you'd like improved, then explain options for treatment. Modern cosmetic dentistry presents a variety of treatments to address common smile imperfections. For example, bonding, veneers, and bleaching can brighten teeth. Bonding and veneers can reshape teeth or correct chips. With veneers or Invisalign clear braces, we correct misaligned teeth for a straight and gorgeous smile.
Direct Bonding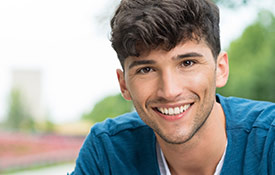 Direct bonding, sometimes referred to as cosmetic bonding or simply bonding, is one of the quickest ways to transform smiles with minor chips, cracks, gaps, or stains. Using composite resin filling material, we repair or conceal cosmetic flaws in just one visit. We shape the malleable composite into position on the tooth. We then apply a curing light which hardens the material in place. Finally, we polish and seal teeth, leaving patients with flawless smiles in just one visit.
Teeth Whitening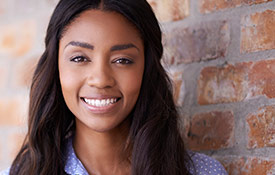 Many patients visit us each year who would like to brighten their smiles, and many of these patients have tried over the counter teeth whitening products that did not deliver the results they hoped for. Our professional in-office and at-home whitening options offer patients predictable results with safe, comfortable treatments. Patients who prefer fast results and application performed entirely by the dentist, should consider in-office whitening. Most patients see results up to ten shades brighter in about an hour. Our take-home whitening products differ from store bought varieties in two significant ways. We provide patients with a customized level of the active whitening agent in their treatment plan, and the dentist crafts application trays that are fitted to patients' smiles. These custom trays keep saliva out and whitener on the surface of teeth where it belongs, allowing the whitener to remain active longer. Most patients achieve the same results possible with in-office whitening over the course of about two weeks of treatment.
Porcelain Veneers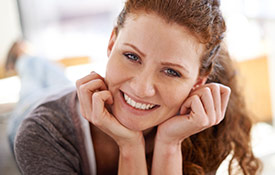 Patients with a number of cosmetic flaws may want to consider one fast, effective solution to correct them all – porcelain veneers. Veneers are thin sheaths of dental grade porcelain that are custom crafted to fit over the front facing surface of teeth effectively concealing flaws, protecting damaged teeth, and correcting orthodontic irregularities like crooked or unevenly spaced teeth. The process takes place over the course of two appointments. During the initial visit, we remove a small amount of surface enamel to allow the veneer to lay flat within the smile line. Then, we capture impressions that are sent to our trusted dental lab where the custom veneer is made, and we place a temporary veneer to protect the prepared teeth. Once we receive the custom restoration from the lab, patients return to exchange the temporary for their custom crafted porcelain veneer.