Advanced Dental Technology in Boonton
Technology is constantly changing, and dentistry is not exempt from these innovations. At Cabana Family Dental, we do our best to remain at the forefront of dental innovations, utilizing the latest dentistry techniques and technologies. When new techniques or technologies improve patient comfort or convenience, we do our utmost to incorporate them into our practice. This is just one more way our dedicated team goes above and beyond to offer patients superior results. Contact our Boonton, NJ practice to find out more or schedule an appointment today. We welcome patients from nearby Denville and Mountain Lakes as well.
Digital X-Rays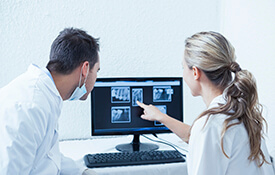 X-rays or radiographs are the best way for our team to view the underlying structures of patients' smiles in order to diagnose areas for concern and plan more advanced treatments. Traditional x-rays had a number of disadvantages. They were difficult to capture, had to be developed using hazardous chemicals, and the physical images developed could only be viewed using a special light board. Digital x-rays are faster and easier to capture, produce higher quality images, and are easily stored, transferred, and viewed on any computer. Perhaps most importantly, digital x-rays offer reduced radiation exposure for our patients, and remove the need for our team to handle hazardous chemicals. As a treatment planning tool, digital x-rays allow us to work more closely with patients to find solutions they'll feel confident in. Because we can enhance and enlarge these images to give patients a better understanding of areas for concern and treatment options, they are able to truly partner with us in planning a lifetime of optimal oral health.
Intraoral Cameras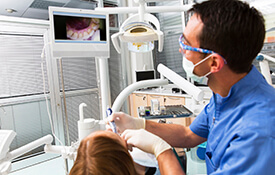 Another dental technology that has dramatically improved our ability to work in partnership with patients to plan their dental care is intraoral photography. Using a unique, pen-sized digital camera, we're able to capture clear images of our patients' smiles from the dentist's perspective. These images make it easier than ever for us to review areas for concern with patients, and in cases where patients need extensive treatment, we may even be able to demonstrate potential results using software to manipulate the digital images. Our goal is always to ensure patients are 100% confident in the treatment options they select, and the use of intraoral photography has allowed more patients to make decisions they're completely comfortable with.
Soft Tissue Laser
Lasers are used in many fields for a number of different reasons, and in our office, laser dentistry has significantly improved the comfort, precision, and effectiveness of numerous treatments. We use soft tissue lasers to improve several procedures including scaling and root planing for those suffering from gum disease and cosmetic gum recontouring. By using a laser rather than scalpels and sutures, we minimize the impact on patients during and after these treatments and significantly reduce healing time.
Digital Impression System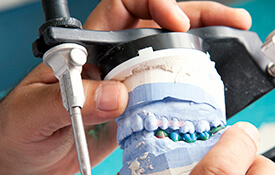 Traditional impressions were captured by having patients bite down on a putty-like material which transferred the form of pits, grooves, and indentations onto the putty. Our dental lab can then use this impression to craft a custom dental restoration. Digital impressions allow us to capture this information electronically which is more comfortable for patients, and allows us to complete treatment more quickly because the impressions are immediately transferred to our dental lab as digital files.