Orthodontics in Boonton, NJ
Orthodontics involves procedures to straighten teeth, whether for functional or cosmetic reasons. As a Cabana Family Dental patient, you probably won't have to visit a specialist – an orthodontist – because we offer traditional braces, interceptive orthodontics, retainers, and Invisalign clear braces in our comfortable Boonton dental office. Our dentists have postgraduate training in functional and cosmetic orthodontics. Dr. Dennis and Dr. Robert are members of respected professional organizations for dentists who provide orthodontic treatments. They continually undergo educational coursework to stay on top of the latest technology, procedures, and developments in orthodontics. Contact us to schedule your orthodontic consultation today.
Children's Orthodontics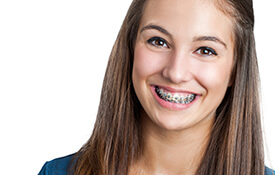 If teeth are not developing properly at an early age, your child may need interceptive orthodontics. This is a first phase treatment that creates ample space and ensures proper development of growing teeth. Later in life, your child will most likely require a second phase of treatment, and then he or she will wear a retainer to maintain the position of realigned teeth. Every child is unique, and we understand that parents want the very best for their children. Patient non-compliance can significantly hinder orthodontic treatment. For these reasons, your doctor will explain his findings, treatment options, and what you and your child must do to experience the best results.
Adult Orthodontics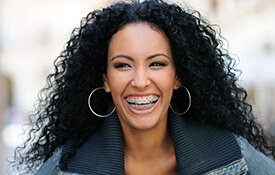 Braces aren't just for kids. Depending on your orthodontic needs, the doctor will recommend the best type of braces for you. If you require significant tooth movement to improve occlusion and function, traditional braces might be the best option. We offer many types of traditional braces, including clear brackets and tooth-colored wires. Your mature, professional image is important, so we'll work with you to maintain it.
Invisalign Clear Braces for Adults & Older Teens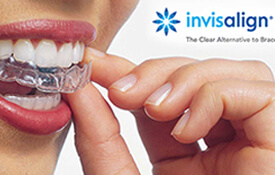 If you need less significant tooth movement, primarily for cosmetic reasons, the doctor may recommend Invisalign clear braces. This innovative style of orthodontic treatment consists of clear acrylic aligners, much like mouthguards, that a patient can remove at will. After taking digital images of your mouth, the doctor will use special software to design a custom treatment plan. Then, an Invisalign-certified dental lab will fabricate a set of custom aligners uniquely designed for your situation. Wear the aligners as directed, removing them only for special events, cleaning your teeth, and eating. Treatment takes less time than traditional braces – 9 to 12 months in most cases.